2023 Competition for Colorado Singers
​Congratulations to the DLOG Competition for Colorado Singers 2023 Winners!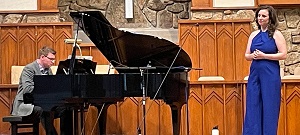 The DLOG Competition for Colorado Singers was decided at the March 18, 2023 Final. Click to see all the incredible 2023 Finals performances available on DLOG YouTube.
Listed below are all the Finalists along with their awards. Special thanks to pianist Jeremy Reger (pictured left accompanying Mezzo Soprano Jenna Clark)  for his always superb accompaniment. And thank you to our Finals Judges Cody Austin, Leona Mitchell, and Gregory Spears as well as Preliminary judges James Bobick, Nancy Gustafson, and Gayle Shay. And huge props to our Committee members and our technical team for a job well done!
For a comprehensive cast list of the DLOG 2023 Competition, please see the 2023 Competition Program.
First Place: $10,000 Galen & Ada Belle Spencer Foundation Award
Griffen Hogan Tracy | Bass
Griffen Hogan is a native of Golden, Colorado who did his undergraduate work at the University of Denver Lamont School of Music. Griffen holds an M.M. from the University of Tennessee and has completed a residency at the prestigious Academy of Vocal Arts. Praised by Parterre Box for his "glorious outpouring of tone" Colorado bass Griffen Hogan Tracy debuted with the Santa Fe Opera as an Apprentice Artist for the 2022 season, covering the role of Manuel Toulon in Huang Ro's new opera M. Butterfly and was featured in the Apprentice Scenes program as Phillipe II Don Carlos. In the 22/23 season Griffen will take part in A&E Atlanta's premier of Our Sacred World by Amy Leventhal along with debuts at Amarillo Opera as Sparafucile Rigoletto and Cincinnati Opera as Raimondo Lucia di Lammermoor.
Second Place: $5,000 Kenneth King Foundation Award

Gloria Palermo    29, Mezzo
Gloria Palermo is from Cocoa, Florida and of Cuban and Sicilian descent. Gloria holds a Master's in Music from the University of Southern California and a Bachelor's in Music from Rice University. She is currently working on her Artist Diploma at the University of Colorado Boulder. She has received additional training at the Tanglewood Music Festival and the Aspen Music Festival. Recognized for her amber tone and melismatic agility, she shines in the baroque and bel canto repertoire. During the summer of 2022 Gloria was an apprentice artist at the Santa Fe Opera. This fall Gloria returns to CU Boulder's Eklund Opera Program to complete her Artist Diploma. Gloria was awarded the Beverly Sears Grant Fund to perform John Harbison's Mirabai Songs with chamber orchestra this October, 2022..
Third Place: $4,500 Myrle F. Hoffman Memorial Award
Dawna Rae Warren  26, Soprano
Currently, Dawna Rae is based in Boulder, Colorado where she is an Artist Diploma student at CU Boulder. She obtained her Master's Degree at the University of Kentucky and her Bachelor's Degree at Baldwin Wallace Conservatory of Music. American Coloratura Soprano, Dawna Rae Warren has established herself as an incredibly versatile performer. She brings a knack for captivating storytelling and musical sensitivity to her all of her repertoire: Opera, Baroque Music, Jazz, and Golden Age Musical Theater. Her most recent engagements have been in leading roles with Eklund Opera, the University of Kentucky Opera Theater, the International Summer Opera Festival of Morelia, The In Series: Opera and More!, Resonanz Opera, Blooming Voce Summer Opera Workshop, and the Toronto Summer Opera Workshop.
Fourth Place: $4,000 Gary and Gayle Landis Award

David Soto Zambrana  29, Tenor
David Soto Zambrana is a tenor from San Juan, Puerto Rico. He received a master's degree from the University of Oklahoma under Metropolitan Opera baritone Kim Josephson and was awarded a Metropolitan Opera Laffont Competition Encouragement Award in the Tulsa District. David joined as an Artist in Residence with Opera Colorado for its 40th Anniversary Season and is thrilled to be making his operatic debut with the company. David will be performing Frederic in The Pirates of Penzance, Borsa in Rigoletto and covering the Duke of Mantua, Romeo in Roméo et Juliette, and chorus for Die Tote Stadt and Turandot
Fifth Place: $3,500 Shirley and Marlis Smith Award

Gabrielle Razafinjatovo  28,  Mezzo
Gabrielle Razafinjatovo, mezzo-soprano, recently received her MM in voice performance and pedagogy from University of Colorado Boulder. Originally from North Dakota, she earned a BA in voice and piano from Minot State University in 2017. She performed with the Minot Symphony Orchestra as winner of the MSO Senior Honors Competition and as a soloist in Vivaldi's Gloria. Past roles include Rosina in Il Barbiere di Siviglia, Mercedes in Carmen, and Third Lady in Die Zauberflöte, with the Western Plains Opera Company. Gabrielle recently joined Eapen Leubner, Margaret Ozaki Graves and Mallory Bernstein performing religious songs from the Jewish and Christian faiths and culture along side a dose of Christmas carols. Featuring a full performance of Benjamin Britten's Canticle ii- Abraham and Isaac with staging and projections.
Sixth Place: $3,000 Carole Johnson Award 
Miguel Angel Ortega Bañales  31, Tenor
The Mexican tenor and pianist, Miguel Ángel Ortega Bañales, discovered a strong passion for music in the choral and vocal acapella setting at the age of 20. Miguel A. Ortega is a graduate student at the University of Colorado Boulder studying with Matthew Chellis, where he has received a Teaching Assistantship appointment to earn a master's degree in vocal performance and pedagogy as well as choral conducting. Ortega obtained his bachelor's degree in music performance from Berea College, during which he held a position as vocal TA and served as a piano collaborator for the music department. Since August 2020, he is Assistant Conductor at Eklund Opera, University of Colorado Boulder. Recent appearances include productions with Boulder Bach Festival and Central City Opera Touring Artists.
Seventh Place: $2,500 Marcia Ragonetti Award
Paul Wolf    31, Tenor
Paul Wolf is an emerging artist in the Denver area working on his DMA at CU Boulder. Mr. Wolf's recent engagements include the role of Nero in Eklund Opera's production of Agrippina. Other past engagements include Opera Birmingham as Spoletta in Tosca, Birmingham Music Club as Ralph Rackstraw in HMS Pinafore. Past season highlights include Tamino in Die Zauberflöte with Seagle Festival; Sam Kaplan in Street Scene, and Fenton in Die lustigen Weiber von Windsor with University of Alabama Opera Theatre; and Alfred in Die Fledermaus. Mr. Wolf is a former Seagle Festival Fall Artist, a Young Artist Apprentice with Charlottesville Opera, as well as a member of Opera Roanoke's Young Artist Apprentice Program. Mr. Wolf was the 2019 NFMC Young Artist Man's Voice Winner from their 60th Biennial Competition in Jacksonville, Florida. He also placed Second in the 2016 MTNA National Young Artist Vocal Competition in San Antonio, Texas.
Certificate of Merit: $1,000:
Jackie Writz in Honor To Honor the Excellent 2023 Candidate Check-in Crew Award
Honorable Mention $500 DLOG Donors in Memory of Laura Gottschalk, Liverpool Card Group, and DLOG Donors
Contribute to our mission while engaging in exciting events! A great way to meet opera lovers and support budding singers of tomorrow.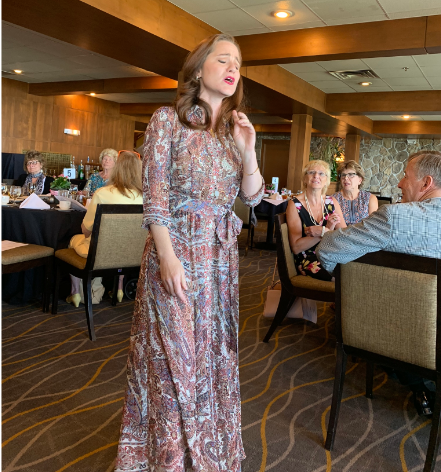 "One of the first competitions I participated in was Denver Lyric Opera Guild. Through the encouragement and feedback of the visiting judges and financial support of the Guild, I had the means to continue to pursue my "opera addiction." As young artists, we encounter so many hardships, disappointments and setbacks. But because of DLOG, when these blows came down, I still had the means and encouragement to push through."