August 7th Summer Party 2022 – An Evening to Remember!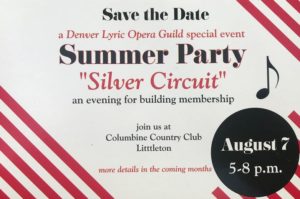 DLOG's Summer Party is scheduled for Sunday, August 7th, 5:00 – 8:00 pm at Columbine Country Club. We are planning a fun evening event with Colorado-themed entertainment produced by Jeremy Reger coupled with a new member drive. Member tickets are $55, and members are encouraged to bring guests with a potential interest in DLOG. Up to 50 guests – one guest for each member – may attend at no cost. The cost of bringing a guest(s) can be paid by the member or underwritten by event sponsors. Every attendee will receive one free drink ticket.
The evening will begin with appetizers on the patio and the first 20-minute entertainment set. A main course plated salad with protein will then be served inside, ending with a second set of singing. Dessert buffet stations round out the evening with the final 20-minute set.
Mark your calendars for this fun summer evening party!
May 10th, Opera on Tuesday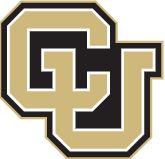 A a wonderful presentation was given by the University of Colorado – Eklund Opera Program
Opera on Tuesday: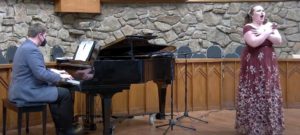 April 5, 2022 10:30am Columbine Country Club:
Competition for Colorado Singers – Winners Recital was held featuring the winners of the DLOG 2022 Competition for Colorado Singers.
Saturday, March 19, 2022, 1 – 5pm MT: The Competition for Colorado Singers Final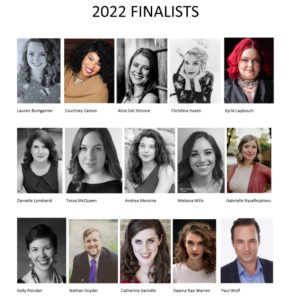 The 2022 Competion Final is in the book! Please see the 2022 Competition Page for more details.
You can also Click Here to Watch the 2022 Competition Final.
Saturday, February 19, 2022, 9am – 4:30pm MT: Louise C. Conter Live-Streamed Master Class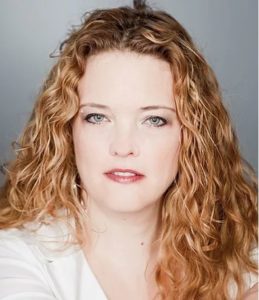 On Saturday, February 19, 2021, the Denver Lyric Opera Guild's Louise C. Conter Master Class will be held with American soprano Mardi Byers. Mardi Byers is one of the most exciting and talented artists to have emerged from the United States of America in recent years. Hailed by the press as "The Grace Kelly of opera" (Die Welt), she is making her mark on international opera and concert stages including the Hamburg State Opera, the Bregenz Festival, Moscow's Bolshoi Theater, New York City Opera, and the BBC Proms.
For more check out the Mardi Byers Bio.
Location – Calvary Baptist Church, 6500 E. Girard Avenue, Denver, CO 80224
This is event is FREE and open to the public. Guests may come and go – or stay all day. See the 2022 Competition Page for more details.
On February 19, 2022 at 9am – 4:30 pm MT, Click Here to Watch the 2022 Master Class Live-Stream on YouTube.
January 18th 2022, Opera on Tuesday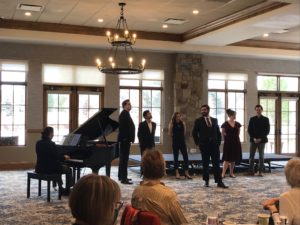 The program was presented by the
Opera Colorado Artists in Residence
Tuesday, January 18th, 2022 at 10:30am
Columbine Country Club,
17 Fairway Lane,
Litteton, CO 80123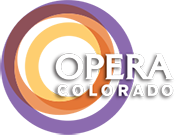 Contribute to our mission while engaging in exciting events! A great way to meet opera lovers and support budding singers of tomorrow.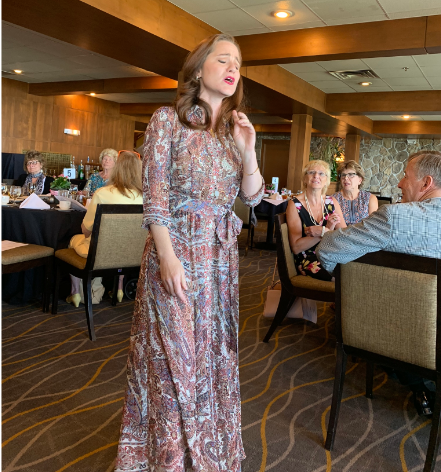 "One of the first competitions I participated in was Denver Lyric Opera Guild. Through the encouragement and feedback of the visiting judges and financial support of the Guild, I had the means to continue to pursue my "opera addiction." As young artists, we encounter so many hardships, disappointments and setbacks. But because of DLOG, when these blows came down, I still had the means and encouragement to push through."