Helpful Hints for Auditions
The following information was taken from Perspectives: Audition Advice for Singers, Second Edition published by OPERA America. It is placed on DLOG's website as a help to the competitors in our Competition for Colorado Singers.
Aria Selection
Choose arias with which you are comfortable and are suited to your vocal expertise at this time.  Judges will be able to see future potential.  If your aria has a high note or low note that is unstable, choose another aria.  Begin with an aria that shows the best quality of your voice.  Try to include some arias that are legato and some that are fast.  Judges will be listening for quality, pitch, musicianship, diction and familiarity with content.  Do not question or argue with the judges.  Selections should be under 3 minutes.  If you have a longer aria, use all the standard cuts so as to not run overtime.  You may have time for only one aria.  It is best to choose standard works with which the judges are familiar.  Greet the judges and audience in a friendly but businesslike manner.  Announce the aria you will be singing and the opera it is from.  Make the best of what you have to offer!
Appearance
Your performance begins when you first appear on the stage.  Choose clothes that are comfortable and fit well.  You should practice singing in them before the audition.  Be sure to look at yourself in a three-way mirror.  Do not bring water or drink water during the short audition.  Do not bring props or touch the piano.
For the preliminaries, ladies should wear solid color dresses ending below the knee.  Prints, ruffles, off the shoulder and other adornments that detract from your voice should be avoided.  Do not wear pants unless all your arias listed are pants roles.  Final competition requires a floor length gown.
Men should wear suits and ties, (many costumes have neckwear and you should be used to singing with something around your neck).  A suit with a turtleneck is acceptable for the preliminaries only.  Be sure to wear polished leather dress shoes (yes, the judges do notice this and it is best to have special audition shoes that are comfortable).
Accompanist
Have all your music well marked and in easily readable condition with no spills or tears.  If you plan to use cuts, take time to go over them with the accompanist in advance before you enter the stage.
Arrive early and sit quietly to compose yourself and think about what you are performing.  If you are sick, wait until next year to audition.  Never sing sick!
The judges and the Denver Lyric Opera Guild want you to succeed.
Contribute to our mission while engaging in exciting events! A great way to meet opera lovers and support budding singers of tomorrow.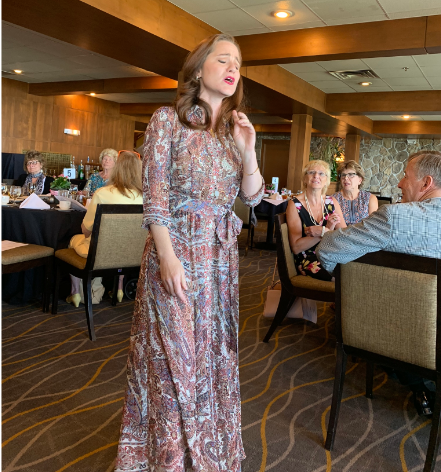 "One of the first competitions I participated in was Denver Lyric Opera Guild. Through the encouragement and feedback of the visiting judges and financial support of the Guild, I had the means to continue to pursue my "opera addiction." As young artists, we encounter so many hardships, disappointments and setbacks. But because of DLOG, when these blows came down, I still had the means and encouragement to push through."